Dynamics 365 Finance and Operations Segregation of Duties Nedir?
Segregation of Duties görev ayrılığı olarak çevriliyor. Şöyle izah etmeye çalışayım. İki kritik görevi(Duty) aynı kişide toplanmasın istiyorsunuz örneğin fatura işleme ve ödeme çıkma gibi iki görevin aynı kişide olmaması gerekiyor. Binlerce kişinin çalıştığı bir firmadasınız ve bunu takip etmek belli bir aşamada mümkün olmuyor işte tam burada SoD devreye giriyor. Duty üzerinden yaptığınız bir tanım size bu tip durumlar için uyarı veriyor ve kontrol etme imkânı sağlıyor.
Önceki yazılarda kullandığımız güvenlik nesnelerini kullanarak bir örnek yapalım. Security Configuration formunu açıyoruz.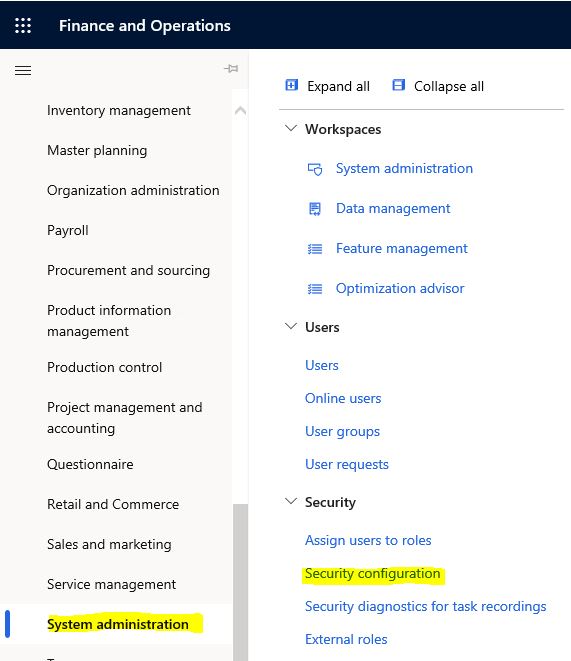 Resim-1
Segregation of duties sekmesinden Segregation of duties rules butonuna tıklıyoruz. Bu form direk menüde de var. Resim-9'da görebilirsiniz.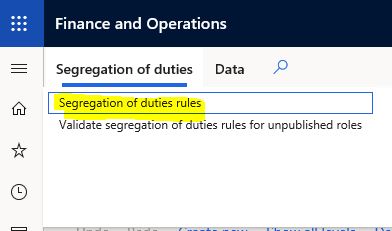 Resim-2
Açılan formda henüz kayıt yok New ile bir tane kayıt oluşturalım.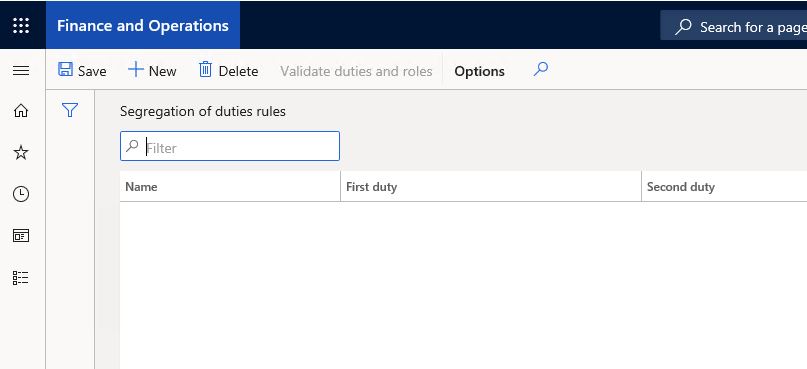 Resim-3
Bir isim veriyoruz ve iki tane Duty seçmemiz gerekiyor. Ben örnek iki Duty seçtim. Dikkat ettiğim tek konu bu iki Duty hangi rolde kullanılıyor biliyorum. Örneği gösterebilmek için ihtiyacım olacak. Tabi siz iş ihtiyacına göre bu tanımı yapacaksınız.

Resim-4
Kaydettikten sonra test kullanıcıma geliyor. Şu anda olan rolden dolayı FD Müşteri listeleme görevi ekli. Yeni bir rol ekleyip Customer Invoicing içeren bir rol seçiyorum. Ekle dediğimde bir çakışma oluştuğu uyarısı geliyor. Eğer Yes dersem benim için bir çözüm kaydı oluşturacak.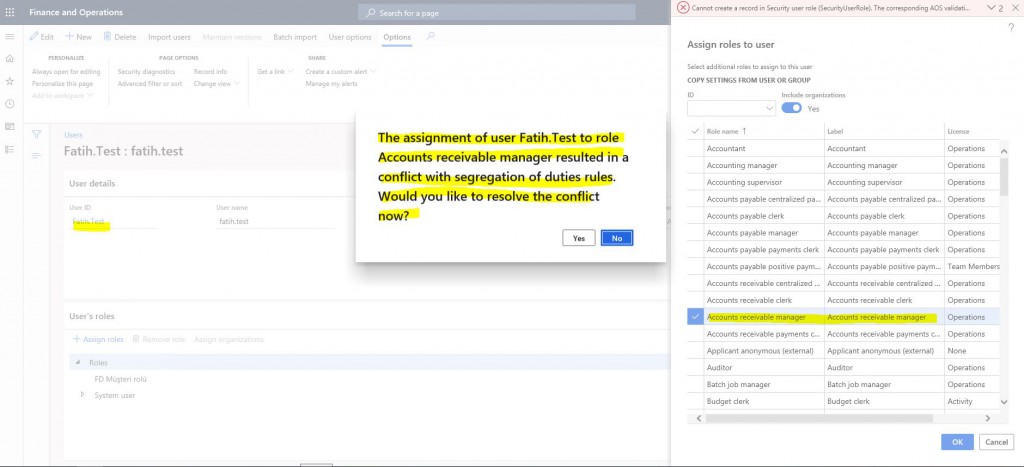 Resim-5
Oluşan kayıtta bu işlemin bilgileri var. Allow Assigment ile atamayı kabul edebilirim.

Resim-6
Kabul edersem aslında kuralı ezmiş oluyoruz bu yüzden bir açıklama soruyor. Girdikten sonra rolü eklemiş olduk. İstersek engelleyebilirdik.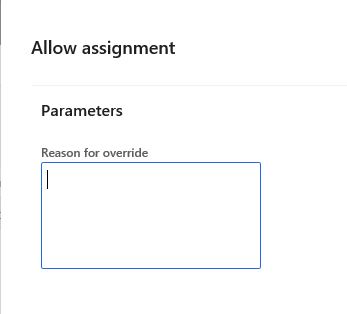 Resim-7
Yeni bir SoD oluşturduğunuzda bu kurala uymayan durumlar var mı diye kontrol edebilirsiniz. Benim kurala uymayan bir durum var ama ona bir ezme kaydı oluşturduk bu yüzden burada gelemdi.

Resim-8
Oluşan kayıtları Resim-9'daki menüden takip edebilirsiniz.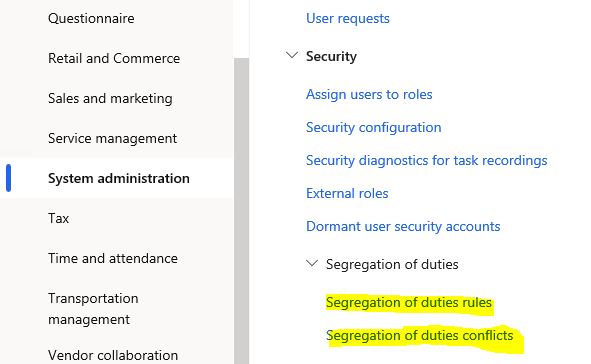 Resim-9
Bu yazıda Segregation of Duties nedir kısaca anlatmaya çalıştım. Çok güzel bir özellik olmakla birlikte hala çok eksiği var. Örneğin sadece Duty ile çalışıyor ama Role atan direk Privilege'lar için bir çözüm yok. Role eklerken soruyor ama sonrasında değişen görev içeriklerini kontrol eden bir mekanizması yok. Kullanmak mümkün özellikle Duty haricinde yetki tanımı yapmaz Duty'lerinizi doğru bir mantıkta oluşturursanız çok kolay kullanabilirsiniz. Bu özelliğe hala yatırım yapılmaya devam ediliyor kısa sürede çok daha gelişmiş bir hala geleceğini düşünüyorum.
Selamlar.
www.fatihdemirci.net
TAGs: Microsoft Life Cycle Services, LCS, Azure, Azure DevOps, Segregation of Duties, Microsoft Dynamics 365, MsDyn365FO, MsDyn365CE, MsDyn365, Dynamics 365 Insights Power BI, Power Automate, Power Apss, Power Virtual Agents, Dynamics 365 nedir, Dynamics 365 ERP, Dynamics 365 CRM