Bu yazıda Dynamics 365 Finance and Operations için yeni bir finansal boyut nasıl eklenir anlatmaya çalışacağım.
Hazırda olan boyut seçeneklerini görmek için General ledger-> Chart of accounts -> Dimensions -> Financial dimensions formunu açıyoruz.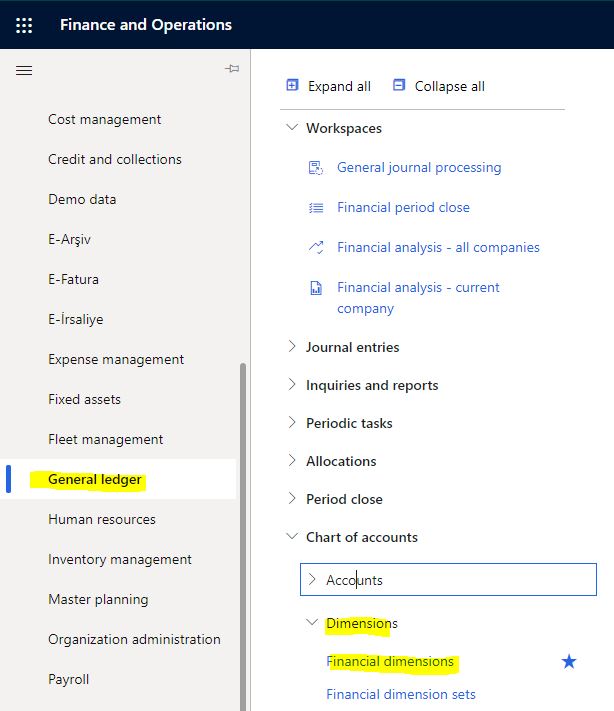 Resim-1
Bu formda hazırda kurulmuş boyutlar geliyor. New ile yeni boyut oluşturuyoruz. Açılan listeden istediğimizi seçebiliriz. Bu yazıda ben bu listeye nasıl ekleme yaptığımızı anlatacağım.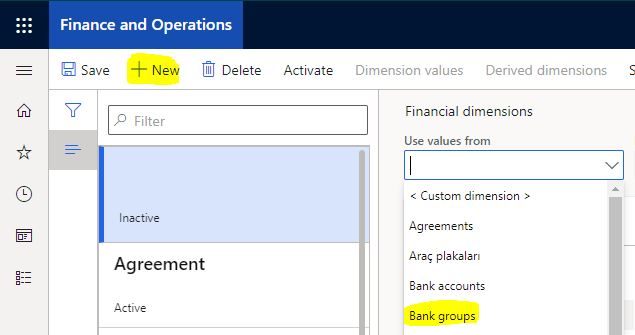 Resim-2
Bu örnekte standart bir tabloyu boyut haline getirmeyi göstereceğim. Örnek olarak BankGroup tablosunu seçtim. Tamamen yeni bir tablo da kullanabilirsiniz.
Öncelikle bir View oluşturmak gerekiyor. Aşağıdaki yapının aynı olmalı yazım hataları bile listede görünmesini engelleyecektir. İsmi DimAttribute ile başlamalı. DataSoruce'a kendi tablomuzu ekleyip ismini BackingEntity yapmalısınız.
3 alana ihtiyaç var.
Key     : RecId
Value : BankGroupId
Name : Name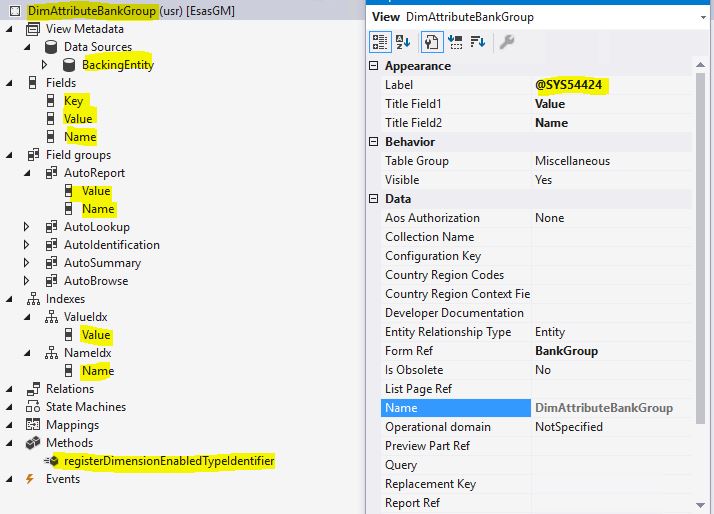 Resim-3
Yeni bir metot ekleyip View ismini yazıyoruz.

Resim-4
Bu haliyle derleme ve eşitleme yaptığınızda listede göremeyeceksiniz. Eğer Debug modda açarsanız hatayı görebilirsiniz. Boyut olacak tablo için mutlaka RecId nin bir tekil index'te ilk sırada olmasını bekliyor.
VendGroup tablosunda RecId Index oluşturulmamış. Entension ile de değiştiremiyoruz. Bu yüzden yeni bir index oluşturdum. Burada sorun tek başına RecId ye izin vermiyor. Mecbur başka bir alanla eklemem gerekti.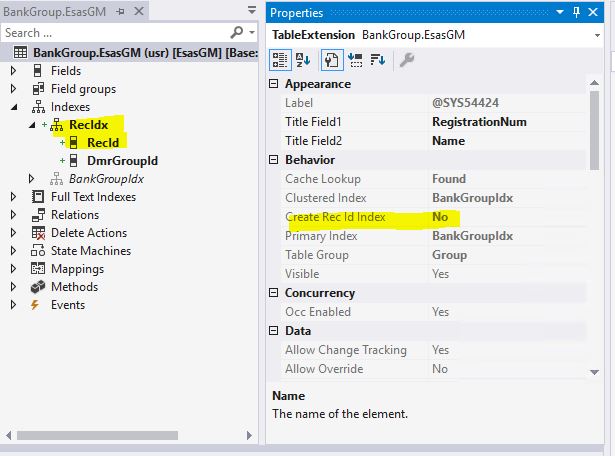 Resim-5
Bu işlemlerden sonra derleme ve eşitleme yaparsanız listeye geldiğini görebilirsiniz. Eğer listeye gelmiyorsa mutlaka Debug modda çalıştırın sorunlu View de hatayı gösterecektir.
Selamlar.
www.fatihdemirci.net
TAGs: Microsoft Life Cycle Services, LCS, Azure, Azure DevOps, DefaultAccount, LedgerDimension, Microsoft Dynamics 365, MsDyn365FO, MsDyn365CE, MsDyn365, Segmented Entry, Power Automate, Power Apss, Power Virtual Agents, Dynamics 365 nedir, Dynamics 365 ERP, Dynamics 365 CRM