Bu yazı ile Dynamics 365 Finance and Operations veri yönetimi altyapısına (Data Management Framework) giriş yapacağım. Veri yönetimi kapsamı çok geniş. Ben bu seride temel prensiplerden bahsetmeye çalışacağım. Veri her uygulama için çok önemli ancak ERP'nin var olma sebebi veriyi doğru toplamak ve toplanan veriden anlamlı raporlar oluşturmak. Bu sebepten ürünün her zaman veri yönetiminde güçlü araçları vardı. Bulutla birlikte bunlar artık çok ileri seviyeye taşındı. İşin içinde CDS ve Azure DataLake gibi çok farklı teknolojiler girdi. Tabi ki SQL ve tablo yapısı duruyor ancak üzerine eklenen Data entities yapısıyla birlikte çok daha esnek ve kolay yönetilen bir yapıya sahip olduk. Bu bölümde veri yönetimi altyapısını kullanarak Data Entitiy ve Entity Packeges'ın nasıl yönetileceğini anlatmaya çalışacağım.
Veri yönetimi altyapısına aşağıdaki nesnelerden oluşmaktadır.
Data entities – Anlamlı veri kümeleri diyebiliriz. Belli bir veriyi görmek ve işlem yapmak için bir veya birçok veri kaynağından oluşan bir yapıdır. Data Entity bizim için bu veri kaynaklarını bir araya getirip anlamlı bir veri kümesi üzerinden işlemleri yapabilmemize olanak sağlıyor. Tekrar kullanmaya uygundur. Entegrasyon, veri aktarımı ve diğer birçok ama için kullanılır.
Data project – Düzenlenmiş Data Entity ve ilişkileri tutan bir proje kaydıdır. Tekrar tekrar çalıştırılabilir bir yapısı vardır.
Data job – Çalıştırılmış Data Project'leri, yüklenen dosyaları ve tekrarlayan işlemleri içerir.
Job history – İşlemlerin tarihçesini tutar.
Data package – Sıkıştırılmış içinde Data project manifest ve Data files olan bir yapıdır. Data job üzerinden oluşturulur. Birden çok dosyayı tek seferde içeri ve dışarı aktarmayı sağlar.
Üç farklı senaryo için bu yapıyı kullanabilirsiniz:
Veri geçişi (Data migration)
Konfigürasyon oluşturma ve kopyalama(Set up and copy configurations)
Entegrasyon(Integration)
Gelelim bu yazının konusuna. Çok basit bir veri aktarımı ile başlayacağız. Tedarikçi grubu aktaracağız. (VendGroup). Dynamics 365 Finance and Operations'a giriş yapıp Workspaces > Data management çalışma sayfasını açıyoruz.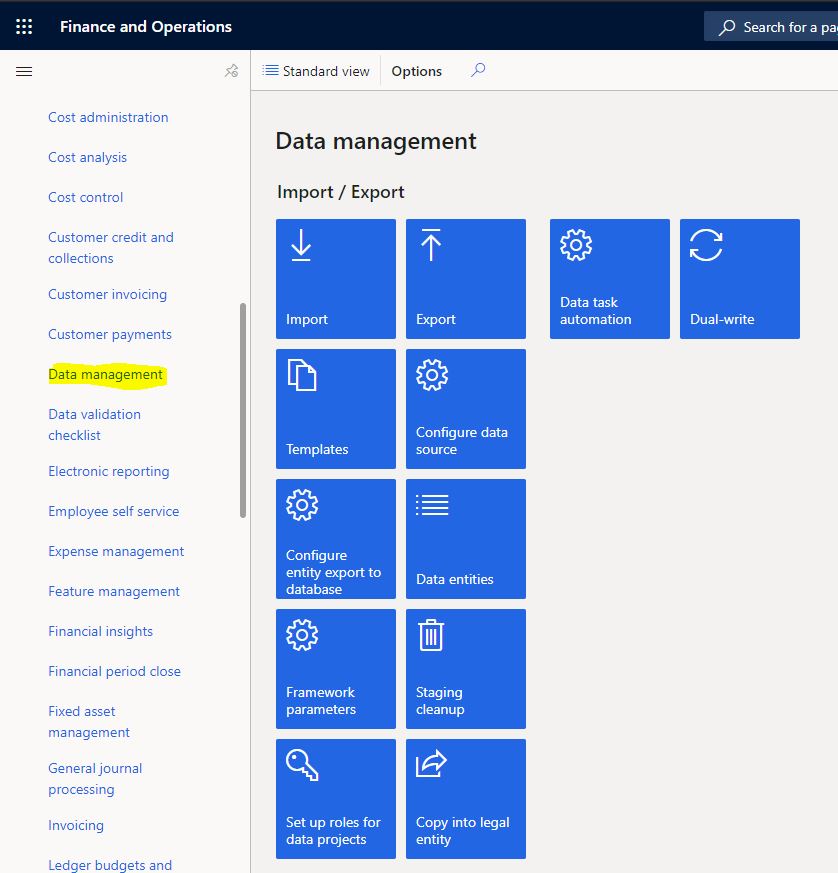 Resim-1