Microsoft Kendi Yönettiği Tier 1 ortamları kaldırıyor!
Önceki yazılarımda bir Dynamics 365 FO satışında sonra Microsoft tarafından 3 ortam sağlandığını anlatmıştım. Bunlardan biri Tier1 tipinde ve bizim genelde Build ortamı olarak kullandığımızı ortamdı. Geçen gece yarısı gelen aşağıdaki maile bu ortamların 1 Aralık itibariyle kaldırılacağını öğrendik.
As communicated previously, Microsoft is removing the use of Remote Desktop Protocol (RDP) to access environments managed by Microsoft. As RDP access is required for development, going forward customers will be required to develop using a Cloud Hosted Environment or download a local "Virtual Hard Disk" (VHD) within Lifecycle Services. Cloud Hosted Environments will allow customers to manage the compute, size, and cost of these environments. This infrastructure change will ensure that customers decouple development tools from any running environment.
In addition, effective November 1, Tier 1 environments will not be included in the purchase of Dynamics 365 Finance, Dynamics 365 Supply Chain Management, Dynamics 365 Project Operations, or Dynamics 365 Commerce apps. The ability to purchase additional Add-On tier 1 environments will also be removed at this time. Beginning December 1, Remote Desktop Protocol (RDP) access for the existing Tier 1 Developer environments, managed by Microsoft, will be removed and decommissioned. Customers will need to preserve or move data within these environments by this date. See the FAQ below with links to existing documentation.
Microsoft will continue to invest in development tools and processes to allow customers to extend the rich capabilities available within Dynamics 365. Learn about one of these key investments, which allows for build automation that uses Microsoft-hosted agents and Azure Pipelines. This approach helps customers avoid the setup, maintenance, and cost of deploying build virtual machines (VMs). It also reuses the existing setup of build agents to run other .Net build automation.
Azure credits will be provided for qualifying customers to use for deploying Tier 1's using Cloud Hosted Environments. Complete this survey to submit your request.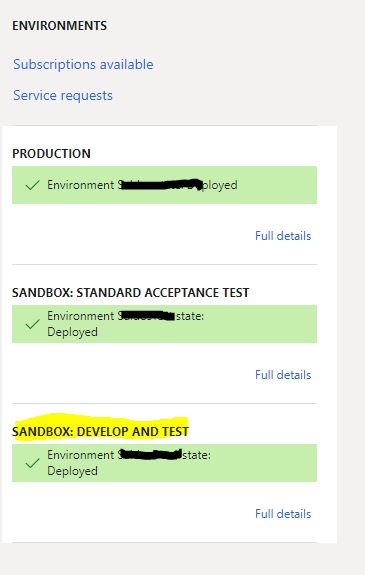 Resim-1
RDP'nin kaldırılacağı çok uzun zamandır konuşuluyordu ama direk makinelerin kaldırılıyor olması beni biraz şaşırttı üstelik kısa bir sürede. Bu arada direk 1 Aralıkta tüm makineler silinmeyecek kullanım durumlarına bakılıp zamanla kaldırılacak diyorlar ama buna güven olmaz tedbir almak lazım.
Bu durumda ne yapmak lazım derseniz aslında cevap bu makineyi nasıl kullandığınıza bağlı.
Eğer sadece Build için kullanıyorsanız iki seçenek var.
Kendi Azure hesabınızda yeni bir Build makine deploy etmek. Bunu önceki yazılarımda anlatmıştım. Buradan okuyabilirsiniz.
Azure-hosted builds ayarlayabilirsiniz. Tabi bunun bazı kısıtları var. Eğer Test ve DB Senkronizasyonu yapıyorsanız bu işinizi görmez.
Eğer Dev makinesi olarak kullanıyorsanız ve bulut istiyorsanız tek seçenek şu anda Burada anlattığım kendi hesabınızda yeni bir makine ayağa kaldırmak. Makineye bağlı olamayan bir geliştirme aracı üzerinde çalışmalar devam ediyor ama net bir takvim henüz yok.
Bu karar proje maliyetlerini arttıracak ben lisans boyutuna göre birden çok geliştirme ortamının ücretsiz gelmesi gerektiğini düşünüyordum elimizdekinden de olduk.
Selamlar.
www.fatihdemirci.net
TAGs: Microsoft Life Cycle Services, LCS, Azure, Azure DevOps, Microsoft Dynamics 365, MsDyn365FO, MsDyn365,