Bu yazıda Dynamics 365 Finance and Operations için yeni Build tipinde bir sanal makine nasıl ayağa kaldırılır adım adım anlatmaya çalışacağım.
Başlamadan önce eğer bir müşteri uyarlama projeniz varsa burada gelen SandBox Develop And Test ortamını Build olarak ayarlamanız öneriliyor. Çünkü bu ortama yakın zamanda admin giriş yetkisi kalkacak ve geliştirme için kullanmak pek mümkün olmayacak. Dolayısıyla Build olarak ayarlamakta fayda var. Ayrıca yine yakın zamanda çıkacak bir Agent sayesinde bütün bir VM ayırmadan Build yapabileceğiz.
Biz bu örnekte Cloud-hosted environment üzerinden yeni bir Build makine oluşturmayı göreceğiz. Sandbox ile aynı adımlara sahip dolayısıyla ikisini de kapsayacak bir yazı olacak. Öncelikle Lifecycle Services'a giriş yapıyoruz. Projemizi seçip hamburger menüden Cloud-hosted environments'ı seçiyoruz.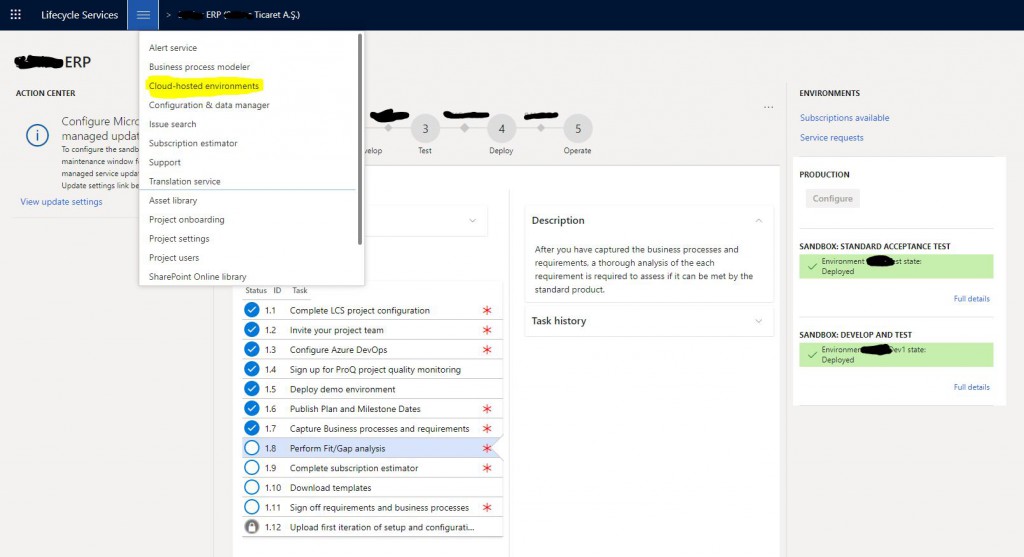 Resim-1