Bu yazıda bir müşterimde karşılaştığım Client kapanma sorununu nasıl çözdüğümü anlatacağım. Ax2012 R3 te olan bu ortamda birdenbire bazı clientlar kapanmaya başladı. Bazen AOS ta kapanıyordu. Dump alıp baktığımızda Heap corruption hatası vardı ama kodsal olarak bir yere işaret etmiyordu. Uzun incelemeler sonunda belli bir tablo tespit ettim. ProjProposalJour bu tabloya bazı yerlerden dokununca patlıyor bazı yerlerden dokununca patlamıyordu. Bu da sorunun tespitini çok zorlaştırdı çünkü ne hata veriyor ne de bir bilgi gösteriyordu.  Temel yapılması gerekenleri yaptım. Full derleme senkronizasyon CIL gibi ama buralarda da hatalar vardı. Özellikle SQL üzerinden oluşturulan indexler sebebiyle senkronizasyon baya sorunlu hala gelmişti.  Tek tek çözmeye çalıştım.  Bu problemleri çözünce müşterinin çalışmadığı bir saate ProjProposalJour patlatmayan yerden çoğaltım. Patlayan AOS'u restart edip çoğalttığım nesnede de patladığını gördüm. Bu durumda kesin nesnede bir sorun var diye düşündüm ve tek tek alt nesneleri silmeye başladım uzun uğraşlar sonunda patlatan şeyin relation'lar olduğunu tespit ettim ama bu çok mantıklı değildi relation neden patlatsın. Sonra tekrar full senkronizasyon başlattım. Sonunda aşağıdaki uyarıyı gördüm.
The SQL database has issued an error.
Info
Synchronize database
SQL error description: [Microsoft][SQL Server Native Client 11.0][SQL Server]The index 'I_592INDEX1FGD' on table 'DBO.PROJINVOICEJOUR' has 95 columns in the key list. The maximum limit for index key column list is 16.
Info
Synchronize database
SQL statement: CREATE   INDEX I_592INDEX1FGD' ON "DBO".PROJINVOICEJOUR (PARTITION,DATAAREAID,DELIVERYNAME,PROJGROUPID,ORDERACCOUNT,INVOICEACCOUNT,INVOICEDATE,DUEDATE,CASHDISC,CASHDISCDATE,COSTVALUE,SUMLINEDISC,SALESORDERBALANCE,ENDDISC,INVOICEAMOUNT,CURRENCYID,EXCHRATE,PROJINVOICEID,LEDGERVOUCHER,ONACCOUNTAMOUNT,TAXPRINTONINVOICE,ENTERPRISENUMBER,DLVTERM,DLVMODE,PAYMENT,CASHDISCCODE,INVOICEROUNDOFF,CASHDISCPERCENT,TAXGROUPID,TAXSPECIFYTOTAL,TAXSPECIFYBYLINE,PAYMENTSCHED,SUMTAX,PROPOSALID,POSTINGPROFILE,PROJINVOICEPROJID,PARMID,INTRASTATDISPATCHID,LISTCODEID,PROJINVOICETYPE,TRIANGULATION,EXCHRATESECONDARY,PORT,WEIGHT,VOLUME,QTY,VATNUM,LANGUAGEID,PAYMDAYID,EUSALESLIST,SUMMARKUP,NUMBERSEQUENCEGROUPID,POSTINGJOURNALID,EINVOICELINESPECIFIC,SMASPECINDEXCALC,GIROTYPE,EINVOICEACCOUNTCODE,INTERCOMPANYPOSTED,PAYMID,PRINTEDORIGINALS,DELIVERYPOSTALADDRESS,DEFAULTDIMENSION,VOUCHERNUMBERSEQUENCETABLE,SOURCEDOCUMENTHEADER,INVOICENUMBERINGCODE_LT,INVOICEREGISTER_LT,WHOISAUTHOR_LT,SALESDATE_CZ,DESCRIPTION,DOCUMENTDATE_W,INTRASTATADDVALUE_LV,PSAENDDATEMAXINVOICEID,DIRECTDEBITMANDATE,NARRATION_BR,PSAINVOICEFORMATS,REASONTABLEREF,TAXINFORMATION_IN,TRANSPORTATIONDOCUMENT,INVOICETYPE_MY,RECVERSION,MODIFIEDDATETIME,MODIFIEDBY,CREATEDDATETIME,CREATEDBY,
Error
Synchronize database
Cannot execute a data definition language command on  ().
ProjInvoiceJour ile ProjProposalJour ilişkili iki tablo asıl sorun ProjInvoiceJour'da. Sorunu tespit ettim. Bir şekilde tablonun bütün alanları key olan bir indexe eklenmeye çalışılmış. Biri mi yaptı yoksa metadata bozulmasından kaynaklı bir durum mu bilemiyorum. Ancak bu index ne axta ne de SQL tarafında yok. Dolayısıyla bunu metadata tanımlarından silmek gerekiyordu.
Bu indexi bulmak için Model db sinden birkaç sorgu yapmam gerekti. Öncelikle model tipini tespit ettim.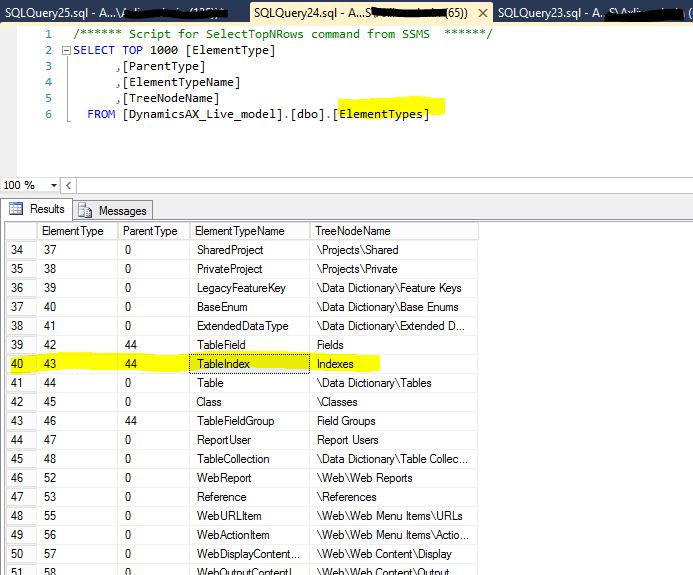 Resim-1
Sonrasında ismini bildiğim o tabloda bir index bulup ParentHandle kullanarak o tablodaki tüm indexleri listeledim ve silmem gereken indexi buldum.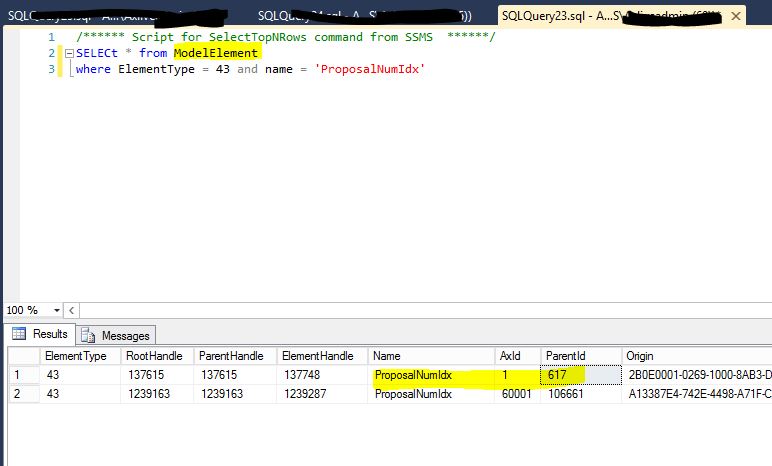 Resim-2
Bu index tanımını sildikten sonra sistem düzeldi. Tabi bunu yapmadan yedeğimi almıştım. Tespiti beni en çok zorlayan durumlardan biri oldu. Bu arada Microsoft ta işin içine dahil oldu ama onlarda direk tespitte bulunamadılar.
Selamlar.
www.fatihdemirci.net
TAGs: Microsoft Life Cycle Services, LCS, Azure, Azure DevOps, Ax2012, Microsoft Dynamics 365, MsDyn365FO, MsDyn365CE, MsDyn365, Segmented Entry, Power Automate, Power Apss, Power Virtual Agents, Dynamics 365 nedir, Dynamics 365 ERP, Dynamics 365 CRM