Merhaba
Ax 2012′de değişen yapıyla birlikte ortamlar arasında veri transferi biraz sıkıntılı bir durum oldu. Örneğin canlı ortamın veri tabanı yedeğini alıp test ortamına yüklerseniz tamamen eşitlemiş oluyorsunuz. Geliştirmeler temel  ayarlar dahil. Bazen bunu da yapmak isteyebiliriz ama genelde sadece işle alakalı verilerin aktarılmasını isteriz. Bunu yapabilmek için InformationSource' ta  Test Data Transfer Tool (beta) adında bir araç yayınlandı. Bu araçla ilgili ayrıntılı bilgiyi TechNet'te bulabilirsiniz. Microsoft bu aracı sadece canlı ortamdan veri aktarmak için kullanmayı tavsiye ediyor. Canlı ortamın kendisine bu aracı kullanarak veri aktarmayı tavsiye etmiyor.
The Test Data Transfer Tool (beta) aşağıdaki durumlar için uygundur.
Büyük verileri veya birden çok şirketi içeren verileri içeri aktarmak veye dışarı aktarmak için.
Birbirinden çok farklı olmayan ax ortamları arasında veri aktarımı için.
Versiyon kontrol sistemi kullanıldığında.
Microsoft Dynamics AX Application Object Server (AOS) çalışmadan aktarım yapmak gerektiğinde.
The Test Data Transfer Tool (beta) veri aktarımı için Microsoft SQL Server bulk copy tool (bcp)'yi kullanıyor. Bu sayede işlemler SQL server üzerinden daha hızlı yapılabiliyor ve AOS'a ihtiyaç duymuyor. SQL üzerinde bu aktarım yaptığımız için veri bütünlüğü korunur. Örneğin RecID'lerde değişiklik yapmaz aynısını oluşturur.Hangi verinin dışarı aktarılacağı filtrelenebilir.
Aşağıda dışarı aktarım ve içeri aktarım işlemini özetleyen bir grafik var. Burada da görüleceği gibi 3 tane farklı dosya dışarı aktarılıyor. Bu dosyalar text bazlı olduğu için versiyon kontrolü bile yapılabilir.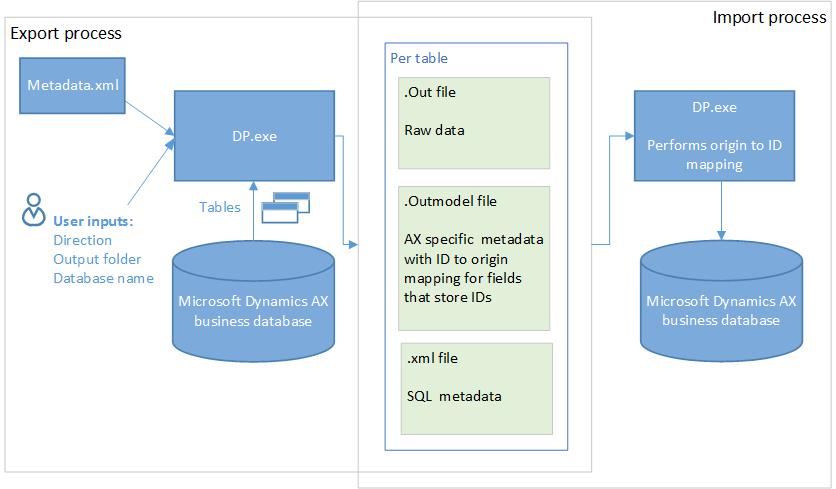 İçeri aktarım işine mutlaka SQL Server'ın kurulu olduğu makinede admin yetkisiyle yapmak gerekiyor.
Ax 2012 ile veri aktarımı için bir çok alternatif geldi. Bunların hangisi hangi durum için en uygun çözüm olduğunu anlatan bir makaleyi ilerde yazacağım.
Selamlar.