How to set up Azure Auto-shutdown for your Dynamics 365 Cloud Hosted machines?
With Dynamics 365, we met Developer VMs and since they work on a pay-as-you-go logic, they must be closed when you are not working with them. Especially in projects where multiple software developers are working, it is useful to arrange the virtual machine opening and closing in order to avoid problems in terms of cost and time management. In this article, I will explain the Auto-Shutdown feature that comes with Azure. I will also talk about a product you can use for more advanced adjustments.
First, let's talk about Azure Auto-shutdown. This feature allows you to automatically shut down your virtual machines at a certain time every day. It also allows you to take special action with notification emails. Let's take a quick look at how to set up and get notifications.
Enter the Azure Portal and choose your virtual machine. Click on Auto-shutdown from the menu.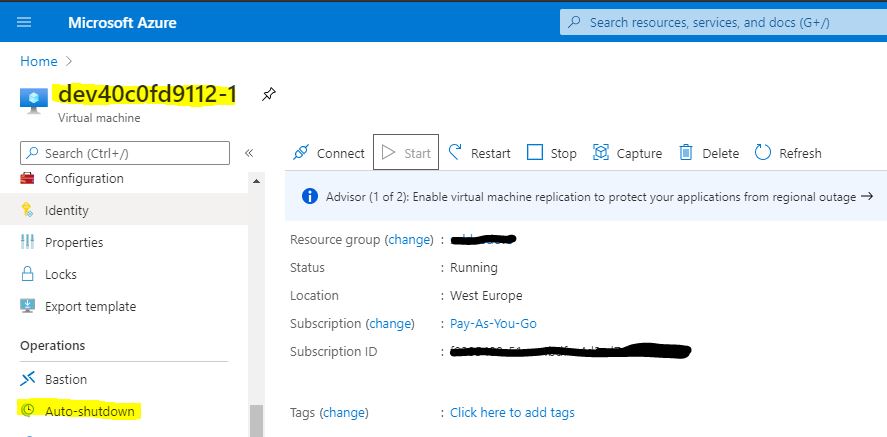 Image-1
On the page that opens, we set the Enabled section to On.  Select the time and time zone you want it to turn off. Send notification before auto-shutdown? This is very useful. Sometimes it is necessary to work overtime, or a process that you run takes a long time. In such cases, notification and postponement links in the notification make it easier. You can send these notifications to a service over a web with Webhook URL. I have never used this. I usually use the Email Address. You can add as many e-mails as you want with semicolons. After completing the definitions, you can save them by clicking Save.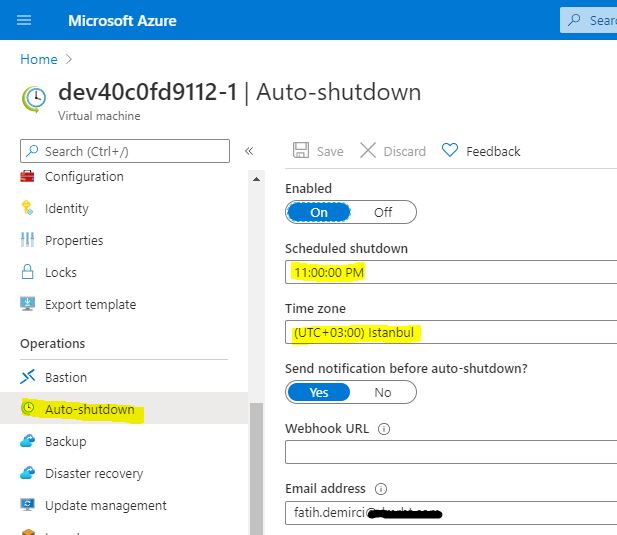 Image-2
When it's time to shut down, you will receive an email like the one below. Using the links, you can postpone it for 1 or 2 hours, or skip it for once.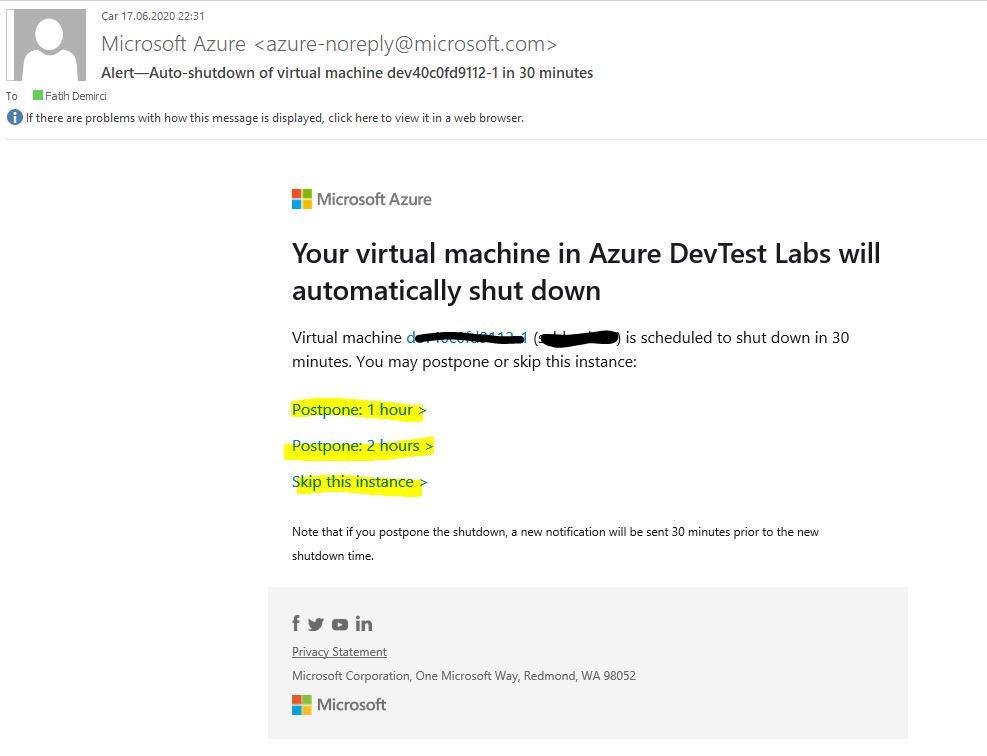 Image-3
As the name suggests, Auto-shutdown does not have a mechanism to open the virtual machine, it only performs shutdown. You can use the Start/Stop VMs during off-hours option in Azure Marketplace for this.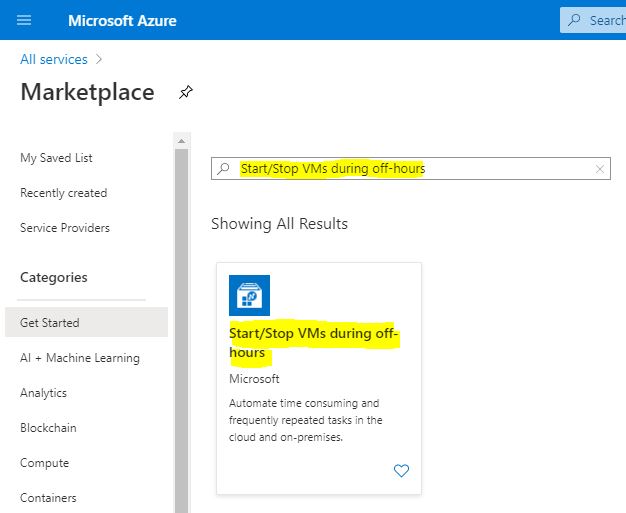 Image-4
It tells you what you need when you open it and how to activate it. Just start with Create and follow the steps. It has a simple setup, so I will not go through it step by step. Thanks to this tool, you can turn off/turn on your VMs at any time. For example, if the work starts at 9:00, it would make sense to open it at 8:30.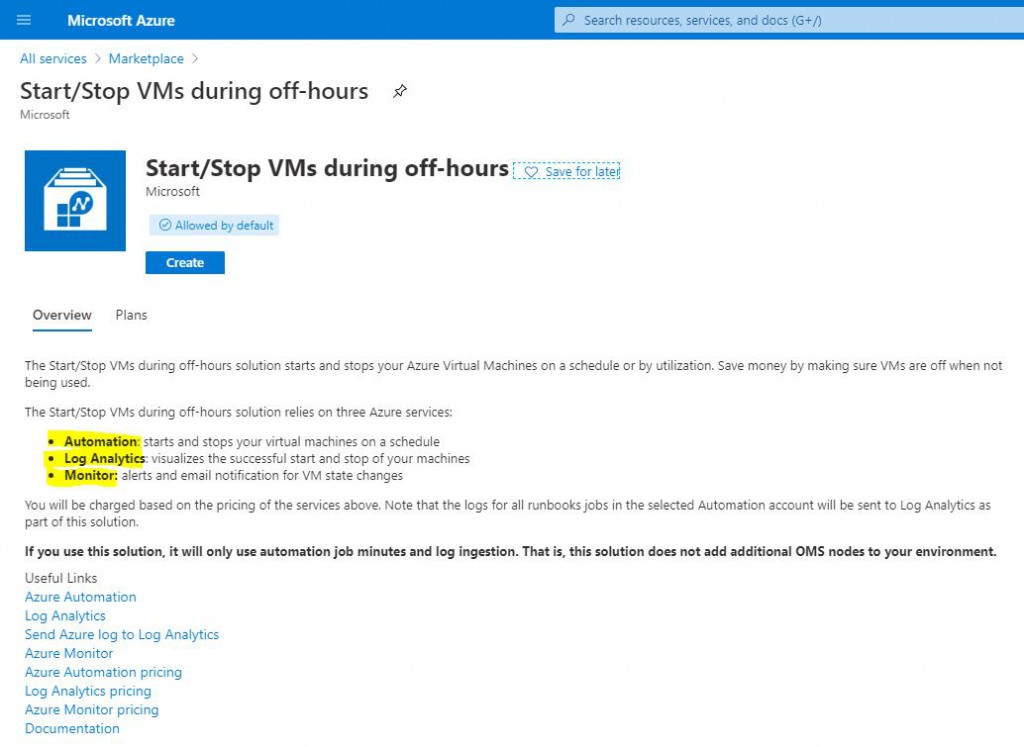 Image-5
In this article, I talked about the Azure Auto-shutdown tool used to automatically shut down your virtual machines and the Start/Stop VMs during off-hours tool that can also do a turn on operation. It is beneficial to build these tools well in order to manage costs effectively.
Regards.
www.fatihdemirci.net
TAGs: Microsoft Life Cycle Services, LCS, Azure, Azure DevOps, Azure Auto-shutdown, Microsoft Dynamics 365, MsDyn365FO, MsDyn365CE, MsDyn365, Dynamics 365 Insights Power BI, Power Automate, Power Apss, Power Virtual Agents, what is Dynamics 365, Dynamics 365 ERP, Dynamics 365 CRM