Bu yazıda Dynamics 365 Finance and Operations çok önemli araçlarından biri olan Task Recorder'dan bahsedeceğim.
Task Recorder kullanıcıların birçok farklı durum için iş süreçlerini kaydetmesine olanak sağlayan bir araçtır. Aşağıdaki bazı örnek kullanımlar mevcut:
Uygulamanın içindeki belirli bir iş sürecinin adım adım rehber oluşturma
Bir iş sürecinin, isteğe bağlı olarak ekran görüntüleri içerebilen bir Microsoft Word belgesi olarak dokümantasyonu
Bir iş süreci için regresyon testleri
Uygulamada bir iş sürecinin otomatik olarak oynatılması
Finance and Operations uygulamaları için Task Recorder çok işlevsel bir araçtır. Örnekler yaparak kullanımlarını anlatmaya çalışacağım. Ayarlar ikonundan Task Recorder'ı açıyoruz.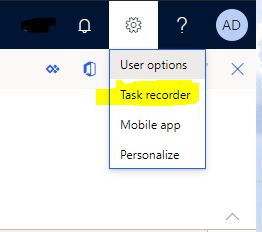 Resim-1