Bu yazıda Dynamics 365 Finance and Operations güvenlik altyapısını (security architecture) anlatmaya çalışacağım. Çok beğendiğim bir docs makalesi var onu referans alıp konuları toparlamaya çalışacağım. Güvenlik altyapısını anlamak çok önemli. Günümüz projelerinde güvenlik ve yetkileri yönetmek çok zahmetli bir süreç olabiliyor. İhtiyaçları doğru yönetebilmek için altyapıyı ve güvenlik araçlarının özellik, yetenek ve kısıtlarını iyi bilmek gerekiyor. Bu makalede aşağıdaki konulara değineceğim. Türkçeleştirmedim. Bazen terimlerde anlam kayması oluyor o yüzden açıklamayı daha doğru buldum.
•             Security architecture
•             Role-based security
•             Duties
•             Privileges
•             Permissions
•             Authentication
•             Authorization
•             Auditing
Finance and Operations uygulaması role-based security yapısını kullanır. Yetkiler role verilir kullanıcılara direk yetki verilmez. Kullanıcılara roller atanır. Hiçbir rolü olmayan kullanıcının sistemde hiçbir yetkisi yoktur. Admin rolü atanan kullanıcı tüm yetkilere sahip olur. Daha doğrusu hiçbir yetki kısıtlanmasına tabi olmaz. Role-based security Resim-1'de görüldüğü gibi hiyararşik bir yapıdır.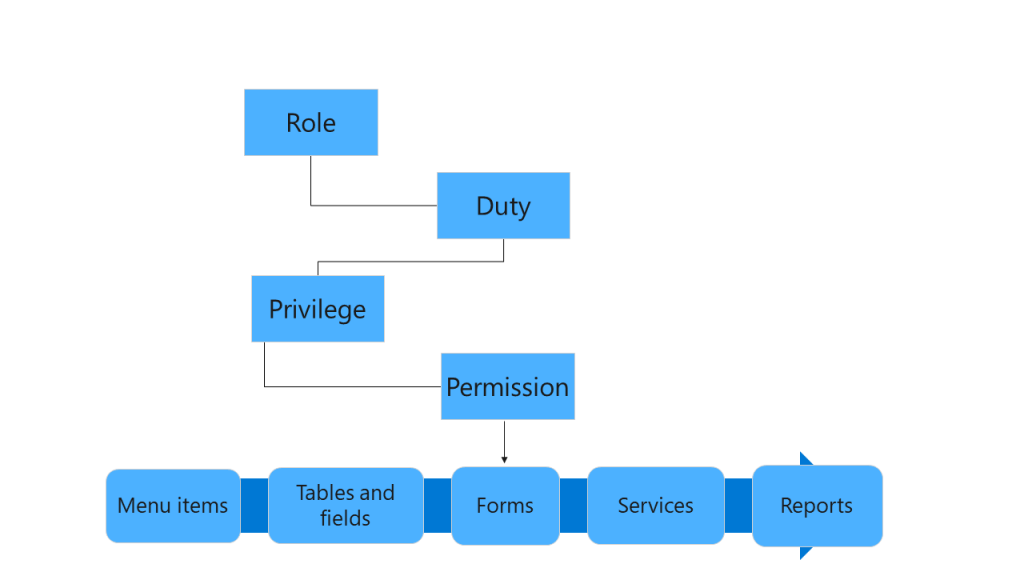 Resim-1